Anne Arundel County Board of Education issued the following announcement on Feb. 7.
The Board of Education of Anne Arundel County will hold a public workshop to discuss recommendations from the transportation consultant report at 6 p.m. on Tuesday, March 10, 2020, in the Board Room of the Carol S. Parham Building, located at 2644 Riva Road in Annapolis.
The Board will hear from representatives of Prismatic Services, Inc., the transportation consultant contracted by the Board to examine potential efficiencies as they relate to Anne Arundel County Public Schools' student transportation services. Prismatic's report was delivered to the Board last month and can be found here.
The report contains 27 recommendations to potentially make transportation services more efficient, including additional staffing. It also recommends the evaluation of two school start and dismissal times scenarios.
The March 10 workshop is open to the public, but no public questions or testimony will be taken.
Original source can be found here.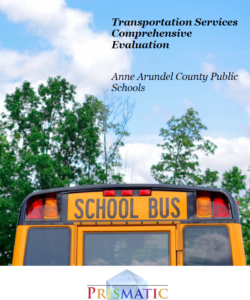 Source: Anne Arundel County Board of Education